---
Super Easy Render has been created to transform the Blender render. Notoriously confusing and complicated, rendering in Blender is non-user friendly with its numerous settings and complex options for increasing or reducing framerates and speed.
This addon is the solution to fix all these woes, combining all render settings into one section: well ordered and optimized for convenience and effective output.
Changing the default framerate for a set scene can cause grievous issues for animations. Super Easy Render enables you to alter a scene's speed and framerate with no such pains.
GET ADDON
Category: Rendering, exporting UI
Software: Blender 2.83, 2.93, 3.x
License: GPL
---
This addon contains:
Version of the script that adds to the UI the new settings
Version that removes the default render UI and only shows the new one, but note that this one only works on the recent Blender versions of 3.0+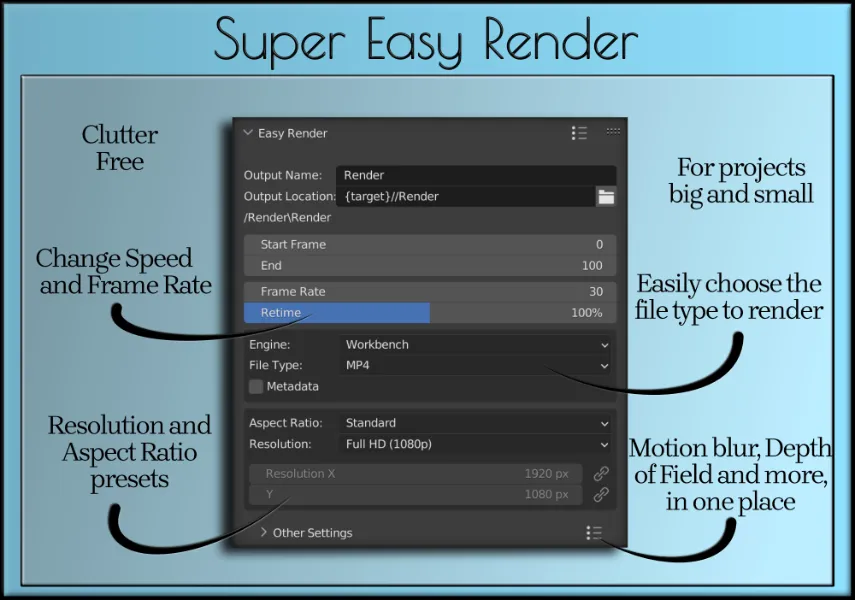 With the flexibility of enabling you to choose your desired file type, render location, resolution and aspect ratio, with no limitations. Easily enable or disable metadata, depth of field, motion blur, and more, all without the never ending trawl through panels of settings.